Ye Duniya Chor Di Humne Lyrics in Hindi Download Free and Nasheed Lyrics of Ye Duniya Chor Di Humne are provided in Four Languages. Shahid Khatab performs ये दुनिया छोड़ दी हमने तेरी ख़ातिर मेरे मौला Lyrics with his renowned, melodic voice, which is adored by millions of listeners worldwide. For you to sync with the Nasheed lyrics.
Nasheed Lyrics in Hindi Ye Duniya Chor Di Humne
मेरे मौला, मेरे मौला
मेरे मौला, मेरे मौला

मेरे मौला तेरी रह़मत से निकला तेरे रस्ते में
करुंगा मैं मुकम्मल अपना वादा तेरे रस्ते में 


ये दुनिया छोड़ दी हमने तेरी ख़ातिर मेरे मौला
ये चाहत है कि मिल जाए सुकूँ अब तेरे रस्ते में
मेरे मौला तेरी रह़मत से निकला तेरे रस्ते में
करुंगा मैं मुकम्मल अपना वादा तेरे रस्ते में

 
मेरे मौला, मेरे मौला
मेरे मौला, मेरे मौला


मेरे मौला तेरा ही दीन इस दुनिया में फ़ैलेगा
मैं अपनी जान जब क़ुरबां करूँगा तेरे रस्ते में
मेरे मौला तेरी रह़मत से निकला तेरे रस्ते में
करुंगा मैं मुकम्मल अपना वादा तेरे रस्ते में


मेरे मौला, मेरे मौला
मेरे मौला, मेरे मौला


है मेरी मंज़िल ए मक़सूद तेरी जन्नतुल फ़िरदौस
के ग़म और सख़्तियों को मैंने झेला तेरे रस्ते में
मेरे मौला तेरी रह़मत से निकला तेरे रस्ते में
करुंगा मैं मुकम्मल अपना वादा तेरे रस्ते में


मेरे मौला, मेरे मौला
मेरे मौला, मेरे मौला


अता कर तू हमें वो जज़्बा ओ ह़िम्मत के कट जाए
जो हाइल है हर एक दरिया ओ सहरा तेरे रस्ते में
मेरे मौला तेरी रह़मत से निकला तेरे रस्ते में
करुंगा मैं मुकम्मल अपना वादा तेरे रस्ते में


मेरे मौला, मेरे मौला
मेरे मौला, मेरे मौला


रही ख्वाहिश सदा मेरी के अब हासिल शहादत हो
ये मेरी जान है हाज़िर ऐ मौला तेरे रस्ते में
मेरे मौला तेरी रह़मत से निकला तेरे रस्ते में
करुंगा मैं मुकम्मल अपना वादा तेरे रस्ते में


मेरे मौला, मेरे मौला
मेरे मौला, मेरे मौला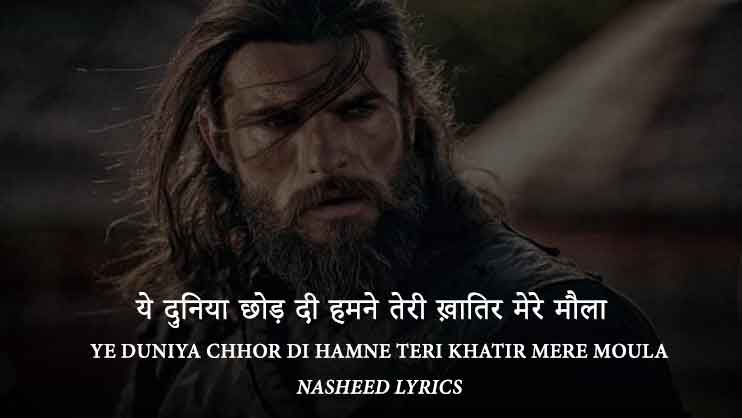 Find The Lyrics to Your Favourite Naat Collection in Many Languages.
---
---
Ye Duniya Chod Di Detail
| | |
| --- | --- |
| Naat Name | Ye Duniya Chod Di Hamne Teri Khatir Mere Moula |
| Recite | Shahid Khatab |
| Writer | Obaid Ur Rehman Shaheed (R.H) |
| Producer | Peace Studio |
| Recorded | RWDS |
| Category | Nasheed |
| Released Date | Jan 21, 2020 |
Nikla Tere Raste Mein Lyrics in Hindi
Nasheed is a form of devotional poetry that is often recited in praise of Allah (God) in Islam. The Hamad lyrics are usually written in Arabic or Urdu local languages and are intended to inspire spiritual devotion, love, and reverence toward Allah.
Often convey the idea of surrendering oneself to Allah's will, seeking His forgiveness, and expressing gratitude for His blessings. The lyrics also often describe the beauty of Islamic beliefs, the importance of good deeds, and the rewards of paradise.
Many nasheeds are simple and easy to understand, with repetitive phrases and choruses that make them easy to memorize and sing. Some nasheed with lyrics also incorporate elements of Islamic history and stories from the lives of the Prophet Muhammad and his companions.
Nasheedlyrics can be sung by individuals or groups, and they are often performed at Islamic gatherings, mosques, and other religious events. The purpose of the nasheed is to create an atmosphere of devotion and reverence that inspires a deeper connection to Allah and a sense of community among those who listen and sing along.
Read More: Main Banda e Aasi Hoon
Read More: 12 Rabi Ul Awal
Ye Duniya Chor Di Hum ne Lyrics Hindi Nasheed PDF Download

Who wrote the Nasheed of "Ye Duniya Chor Di Humne"?
Unknown written the Nasheed Lyrics of "Ye Duniya Chor Di Humne".
Who is the Recite Nasheed of "Ye Duniya Chor Di Humne"?
(Shahid Khatib) Recite of Nasheed "Ye Duniya Chor Di Humne"
Who Campany Release Nasheed "Ye Duniya Chor Di Humne"?
First (Peace Studio) Release Nasheed "Ye Duniya Chor Di Humne"