Main Banda E Aasi Hoon Lyrics in Urdu Download Free and Hamd Lyrics of Mai Banda E Aasi Hoon Lyrics with urdu are provided in Three Languages. Syed Hassan Ullah Hussani performs Main Banda E Aasi Hoon Lyrics with his renowned, melodic voice, which is adored by millions of listeners worldwide. For you to sync with the Hamd lyrics.
Hamd Lyrics in Main Banda E Aasi Hoon
بےنواؤں کی نواسنتاہے
التجا سب کی ُخداسنتاہے
ہم کے بندے ہیں ثناء کرتے ہیں
وہ کہ خالق ہے صدا سنتا ہے

میں بندہ آصی ہوں خطا کار ہوں موال

لیکن تیری رحمت کا طلبگار ہوں موال
وابستہ ہے امید میری تیرے کرم سے تیرا ہوں
فقط تیرا پرستار ہوں موال

میں بندہ آصی ہوں خطا کار ہوں موال

لیکن تیری رحمت کا طلبگار ہوں موال
پھر تم میرے ایمان کو توانائی عطا کر
برسوں نہیں صدیوں سے میں بیمار ہوں موال

میں بندہ آصی ہوں خطا کار ہوں موال

لیکن تیری رحمت کا طلبگار ہوں موال
باہر کے اجالے مجھے کیا راہ سجھائیں
اندر کے اندھیروں میں گرفتار ہوں موال

میں بندہ آصی ہوں خطا کار ہوں موال

لیکن تیری رحمت کا طلبگار ہوں موال
اک تیرا اشارہ ہو اور آسان ہو مشکل
اک لہر اٹھے اور میں اس پار ہوں مولا

میں بندہ آصی ہوں خطا کار ہوں موال
لیکن تیری رحمت کا طلبگار ہوں موا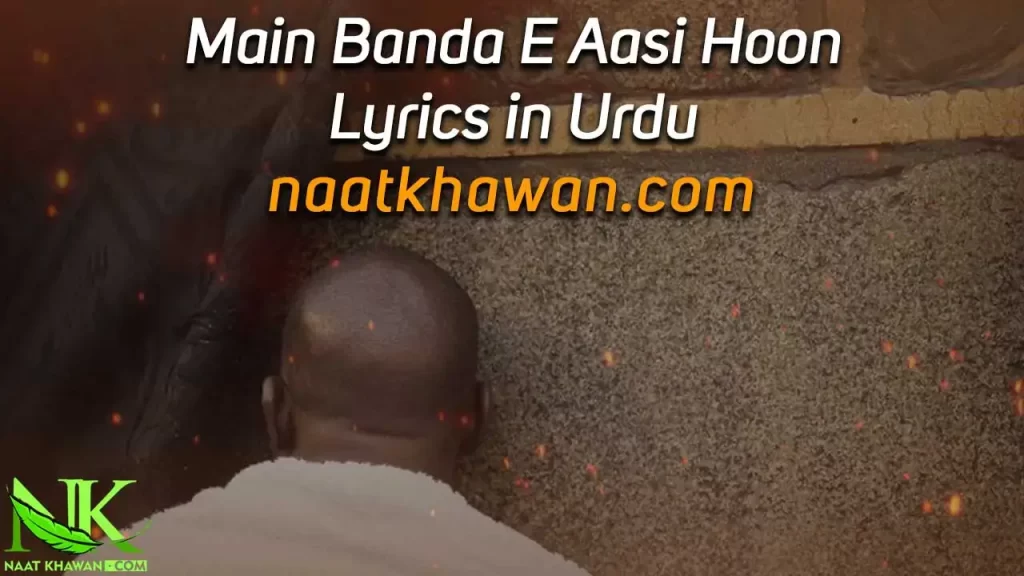 Find The Lyrics to Your Favourite Naat Collection in Many Languages.
---
---
Main Banda E Aasi Hon Detail
| | |
| --- | --- |
| Naat Name | Main Banda E Aasi Hoon |
| Recite | Syed Hassan Ullah Hussani |
| Writer | Junaid Qasmi |
| Producer | Heera Media |
| Recorded | Heera Digital Studio |
| Category | Hamd |
| Released Date | Mar 29, 2021 |
Main Banda E Aasi Hoon Lyrics
Islamic Hamd is a lovely way for Muslims to express their thankfulness and adoration for Allah (SWT), the Almighty. It is a potent means of expressing our love and devotion to Allah and pleading for His blessings and pardon. We shall look at the importance of Islamic Hamd, its advantages, and how to apply it to our daily lives in this post. What is Hamd in Islam? Islam's Hamd practice entails worshipping and glorifying Allah (SWT) for His innumerable mercies and benefits. It is a means for us to show Him how much we adore and appreciate everything He has done for us. The practice of Hamd is firmly ingrained in Islamic culture and has long played a significant role in Muslim devotion. It might be spoken aloud or chanted, and it can take the shape of poetry, prose, or even music. Hamd can be done at any time, although it is especially recommended after the five daily prayers when a task is finished, and when facing challenges or difficulties. Gains from Islamic Hamd The benefits of observing Islamic Hamd are numerous. Some of the most noteworthy ones are listed below: enhancing the relationship with Allah One of the most effective ways to communicate with Allah (SWT) and deepen our relationship with Him is to praise Him through Hamd. It enables us to recognize His majesty and greatness while also serving as a reminder of His limitless kindness and gifts. Hamd is a sort of worship that purifies our hearts and spirits. It is a form of purification of the soul. This then results in a state of contentment and inner serenity. Protection from unfavorable emotions and thoughts: Hamd is a method for fending off unfavorable emotions and thoughts like envy, rage, and jealousy. It assists us in developing uplifting emotions like love, appreciation, and humility, all of which are crucial for spiritual development. enhancing the neighborhood: Hamd is a communal ritual that promotes Muslim ties of brotherhood and sisterhood. It fosters a sense of fellowship and camaraderie among believers, which is crucial for developing a powerful and thriving Islamic society..
Read More: Haale Dil kis ko Sunae Lyrics
Read More: 12 Rabi Ul Awal
Main Banda E Aasi Hoon Lyrics Hindi Hamd PDF Download

Who wrote the Hamd of "Main Banda E Aasi Hoon"?
Junaid Qasmi has written the hamd Lyrics of "Main Banda E Aasi Hoon".
Who is the Recite Hamd of "Main Banda E Aasi Hoon"?
(Syed Hassan Ullah Hussani) Recite of hamd "Main Banda E Aasi Hoon"
Who Campany Release Hamd "Main Banda E Aasi Hoon"?
First (Heera Media) Release hamd "Main Banda E Aasi Hoon"